– Hi, thanks for answering to our questions. What's currently going on in the HATESPHERE's camp?
We've just finished the Headbangers Ball tour in Denmark, now awaiting a couple of shows in Norway and our European headliner dates. Oh, and we just released the new album by the way, hehe 😉
– First of all, hope you don't mind making some history of the band…
I joined the band in 1993 (when the band was called Necrosis), as we were just doing cover songs. From 1995 – 1998 we did three demos, then changed name to HateSphere just before we recorded the first album in 2000. We have released 7 full length albums on Scarlet Records, SPV/Steamhammer and Napalm Records plus 2 mini albums. We have toured Europe, Asia and North America with bands like Kreator, The Black Dahlia Murder, Nevermore, Soilwork, Morbid Angel, Chimaira, Dark Tranquillity, Behemoth, Mastodon, The Haunted… and many more.
– You will soon release your new «The Great Bludgeoning»; what are your expectations?
We have high expectations on this one, so we're really looking forward to seeing how things will work out. So far people have really welcomed the album well! Both fans and reporters.
– And how could you describe the album in just a few words?
More dirty, old school HateSphere!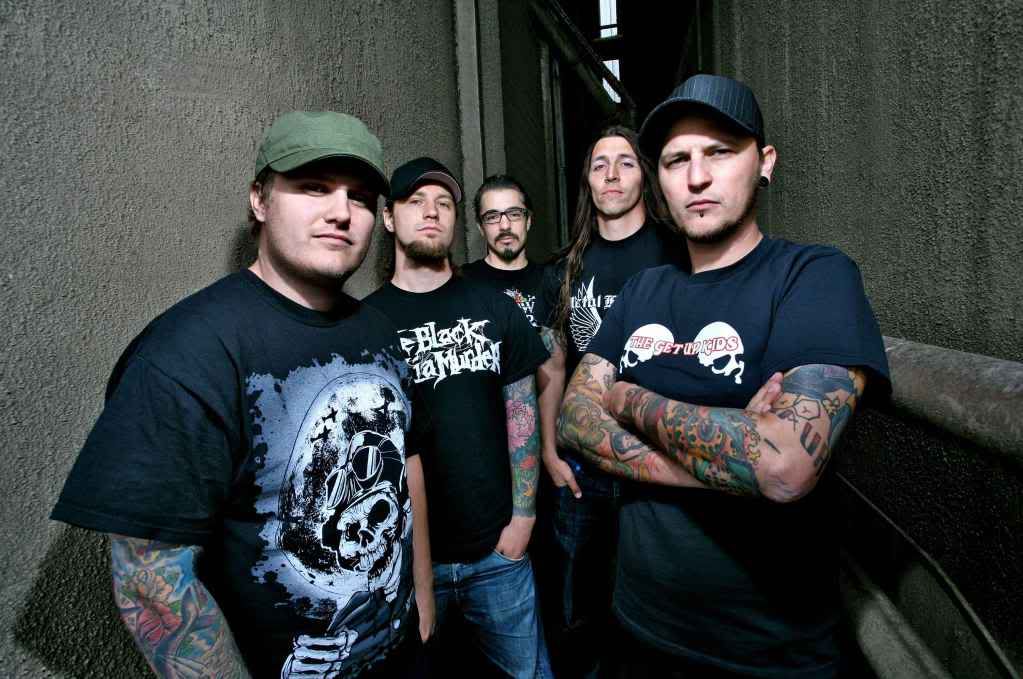 – There have been a couple of line-up changes since your previous «To the Nines»; what have the new members brought to HATESPHERE?
Lots of new energy and actually great atmosphere and calm. We are way more relaxed now than before, and we really have fun together. This line-up just fits together both musically and personally – this is a big difference from before.
– Though production is quite clear and you have always had a pretty up-to-date sound, this album seems to be more old-school oriented. Was this something you aimed for?
Yes, it was. We especially love the sound on the "Ballet of the brute"-album, and we gave Tue this one and told him not to copy it – but to be inspired by it. We certainly feel that this sound fits our new songs very good.
– I could also say this album is more «Metal» in different aspects. Is this, somehow, a new era for the band?
I think a lot of people feel that we have found ourselves again. In some ways that might be right but this is also a band with new people – so it is a new era as well. We feel we are as strong as ever, and that confidence has manifested itself – in our opinion – in the new songs.
– This CD was produced by well-kwnon Tue Madsen; are you guys satisfied with the work he did?
Absolutely. We have worked with him many times before, and we feel safe giving him this responsibility to make our album sound just as we want it. The atmosphere while recording is super relaxing but still extremely professional – that's the way we like it 😉
– Cover artwork was done by Mircea Gabriel Eftemie, who has also worked with quite important acts. What do you wanted to reflect with it?
Nothing special really. We just wanted the cover to reflect the atmosphere of the songs and the title. And they are all very old school and quite brutal, so the cover artwork ended up the same way. Mircea is amazing, he really did a good job – and he actually also did the "Ballet of the Brute"-cover back in the days.
– Considering the line-up changes, has anything changed during the songwriting?
Not that much actually. I still write most of the music but the guys/band that I arrange and write the music with are quite different than the previous line-up. That gives a whole different atmosphere and a whole different way to write music. We fit better together and we all want the same thing.
– And what are the main lyrical ideas behind this latest «The Great Bludgeoning»?
The lyrics are for the most part tales of (and views on) everyday life through a more or less dark or pessimistic lense.
They are tales of ruined lifes, self-hate, greed, thoughtlessness and more. And each song stands either on the victim's or the offender's side in the great bludgeoning.
– You have been around for 10 years now; what were your goals when you formed HATESPHERE?
We just dreamed of making albums and touring – and luckily we did 🙂
– And what have been the best and worst moments so far?
it has been quite annoying to have to change members every second day – and then deal with fans that maybe dont understand it. But that is hopefully history by now. Apart from that we havent experienced something really, really bad, haha. There are lots of great moments, way too many to share here. But there has been a lot of great shows, festivals, tours, and a lot of great aquaintances on the road.

– Now a bit offtopic question; how's the Metal scene like in Denmark?
It's not that big compared to the rest of Scandinavia but it's quite healthy and we have more bands now that get international attention.
– And finally, what does future have in store for you guys? Do you plan touring in support of the album?
Absolutely 🙂 We have just finished the Headbangers Ball Tour in Denmark together with Mercenary and Artillery. In the rest of the fall we have shows in Norway and Sweden and then two smaller headliner tours through Europe. In 2012 we aim for a support tour in Europe, then a headliner run in Scandinavia, summer festivals and then a US tour in the fall of 2012. So, plenty of things to do 🙂
– That has been all, thank you once more for your time. If you now want to add any final words; last lines are all yours.
Thank you all for your support. Check out our new album "The Great Bludgeoning" and be sure to catch us on the road, when we visit a place near you.
Cheers
Pepe/HateSphere