– Hello Shyaithan, thanks for taking the time. A few time ago you came back from touring with GORGOROTH and BELPHEGOR; how did this tour go?
Well the tour was 5 hellish dates throughout Germany and Austria, although I wished for it to go on to France and other countries. It went well and I did enjoy my time on tour. IMPIETY trampled the earth with headliners GORGOROTH and BELPHEGOR. These guys were alright and easy to get along with. Overall it was short but good response throughout. More or less the bad side probably was the freezing winter and terrible snow storms end of December.
– Short time after unleashing your new album, "Worshippers of the Seventh Tyranny", have you already heard any response? Y personally think releasing an album like this is a clever thing to do.
I was surprised for the really good response and reviews toward Worshippers. I mean honestly clever or not, I am one who doesn't really care for mainstream media and what happy commercial cunts think but it does give satisfaction in the end to know all efforts are paid off. Concerning the way I write or put out music, I don't really care what any one who think. After all infernal music from IMPIETY is a clear reflection of my twisted soul. I never expected that majority of those who picked up the new album really liked it a lot.
– Curiously, this album is built upon one single track, "Worshippers of the Seventh Tyranny", which it seems to prove you're once more reinventing the wheel. How did you come up with the idea? And how did this affect the composition process?
I like the way you put that 'reinventing the wheel' into perspective. Like I tell most people, when it comes to IMPIETY just expect the unexpected. I like to challenge myself in putting out punishing yet creative releases and just because I like to try different things each time when expressing myself. To keep that monotonous path would be far too much mundane and thus, would seem pointless to go on if I couldn't challenge my inner strengths to put to the test both mental and physical aspects as far as compositions are concerned. Sure, the philosophies are still the same, concepts close knitted and rooted alongside the devious path towards hell, but with plenty variation keeping energy levels at an all time high. Concerning what led me to create Worshippers, was my long time passion for traditional doom and having had that interest since the dawn of IMPIETY but never having adequate time to really focus and creating some thing so enormously heavy, fierce and epic at the same time. I mean take a look and see the number of albums that came right into your face with supersonic speed and brutality. I guess I was always on the high for fast songs although I still loved to listen to dreadfully slow, heavy as fuck doom bands. It was a challenge to write some thing much slower, I had long seek to conjure and finally after the sixth release which was 'Terroreign' I told myself for the Seventh album it was going to come as a complete surprise as I could finally focus and attempt that monstrous challenge you have in your hands today. It was exciting for me to be able to finally journey within the depths of my soul, and finally fucking write this monumental monster.
– This album is, of course and overall, a pure aggressive blast, as we're used to, but I also noticed like you gave a more important role to the dark atmosphere, we can even find some synths. Was that just how things flew (let's say a natural progression) or did you try to give some different details and elements to a single 38 minute track?
Yeah, I never wrote this album in parts, I just went with the flow from start to finish. It was tough because you can see what a long fucker this it. I needed plenty patience and focus to relate perfectly what came to mind when writing. It was challenging and I enjoyed putting all elements I felt that complimented the atmosphere and song writing. Overall, I think it's a really good attempt of mine although I really wish I had more time to really inject more venom into the songs. Aesthetics played a great role in creating that exact atmosphere of depravation and
desolation. Like most IMPIETY releases I used bomb blasts, some synth here and there because it only adds more feel to the exact atmosphere I wish to create. But bearing in mind, I donot keep using the same aesthetics all the time, just only when deemed necessary.
– Your currently record label just provide us your new MCD, "Advent of the Nuclear Baphomet", which was recorded at the Music City Studios in Montebelluna (Italy). What could you explain us about the production process for the album?
Yes, Pulverised Records put that out early this year. Recorded early 2011 in Montebelluna, North Italy once again at Music City Studios. It was the same studio used for Worshippers of course and since it's located pretty close to where Italian home base to Treviso, Italy where IMPIETY resides currently. Recorded on a 24 channel mixer, and we opted for more acoustic sound for the entire album to give it more of an analog and monstrous sound. Drums recorded on a Pearl Stage Custom kit, amplifiers used were ENGL and MESSA BOOGIE Triple Rectifier. AMPEG Bass Amp. Nicolo is the sound producer/engineer and owner of this humble recording studio. I myself co-produced this album knowing what's best and how the record should take shape. Satisfied, yes of course I am and since being the first time we recorded IMPIETY in Italy. In the past the 3rd full length album 'Kaos Kommand 696' under Osmose Productions was recorded at Berno Studios, Sweden in 2002 and 'Paramount Evil' the fourth album under Agonia Records recorded in Mexico in 2004. Recording in various studios around the world is not new for me, in fact I enjoy that experience and learning more and more new things each time.
– During all those years of existence for IMPIETY there have been several line-up changes. Has this affected in any way to your music?
Several if not many. It's been really hard to keep or work with band mates who fall out on their dedication or strong will to develop further the band or to keep up to the flow of perserverance and hard work. Good musicans are many, but I don't need 'good' musicians, I need really dedicated ones to the type of metal IMPIETY breathes, one who will die for satan and who believe in the music and overall tenacious spirit of the band. So ofcourse, coming from Asia, it has been liability since it's hard to locate a good number of diehards or tyrants to work with or choose from. Some do have their own bands to manage and of course the rest, a lifestyle suited to their needs. I mean, look at IMPIETY's hectic schedule of touring or recording,etc. It's easy to lose a good job in that process and in Asia one really needs to work as metal music does not put food on the table and pay your bills. It's a big sacrifice to play metal full time and since also metal is a very known genre here but relatively small for the overall music industry. Who cares because I live for the underground so it has been a price for me to pay all these years to literally eat my boots and be poor. It's not easy and has been a big struggle for me but I've crushed all obstacles so far. Throughout Asia and to Mexico, to Japan to now Italy, I've had opportunity to work with some of the best warriors. And most understand that IMPIETY is one probably toughest to be in because I only demand the best output from each individual. So far it's been good travelling to italy, living there and working with the Italian line up these past 8 months have yielded 2 great releases, some tours and great concer
ts already.
– Your new line-up is now formed by 3 Italian members; how did the idea of them joining the band come up? Did the fact of recording in Italy had something to do or vice versa?
Early 2010, I scouted for a new line up. Good brother Alex from Zero Tolerance came forward with a list of 20 or so tyrants willing to commit play. I was pretty much honored with that fact but I had also made contacts with some Italians in North Italy, the first formation this 2010 was with the guys from Imposer. But that fell through right after the European tour with Setherial where IMPIETY destroyed 15 live dates across Europe. The line up I felt was retard ; not strong enough with poor commitment and poor play from that formation. So I was lucky in the end to tie up with Guh Lu who injected more violence as well as pure dedication and commitment to the band. Eskathon was recommended by Guh Lu to take charge of second guitars. Atum (drums) joined after the recording of 'Worshippers'.  Yes, I had met both Guh Lu and Atum during the tour with Setherial, but it's strange because never did it cross my mind at that point that I would seek them to join IMPIETY. Anyways, Eskathon is the only rookie in the band without war credentials to his name but was recommended by Guh Lu to add more force to the line up by having 2 lead axe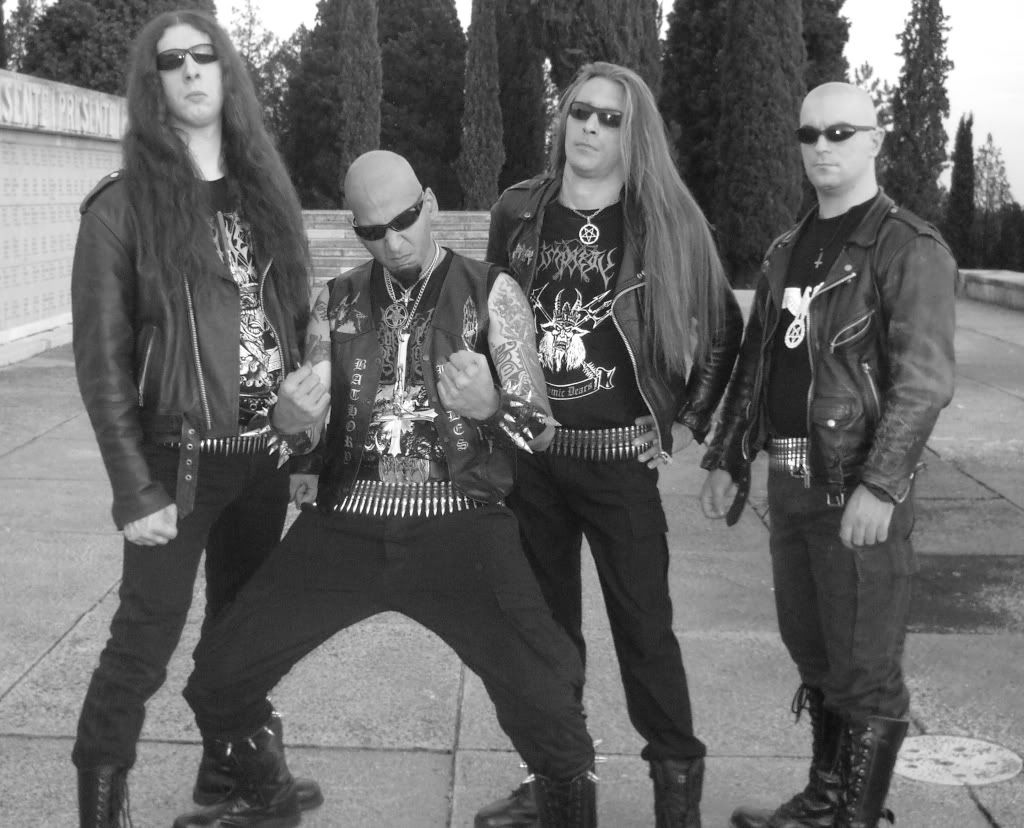 men. I'm proud to say that Eskathon has proven his position in the band working hard and dedicating a lot of energy all the time. So are the rest of course. It's been an honor to work with such great warriors. Yes, so obvious to that fact I knew home base would be North Italy and that indeed, I would record there and rehearse there. Logically it's better and slight more cost effective if I myself flew over and worked with the line up.
– Both Guh Lu and Atum are live members for SETHERIAL, whom you toured with last 2010; did that matter made things easier regarding your choice of having them in IMPIETY?
Yes, as elaborated earlier I did admire their playing abilities in SETHERIAL that was an observation made and impression forged when we toured together. I didn't know them personally well although I already had respect for them and never did it cross my mind I'd be working with them in future. Only when I kicked out A War did I approach to ask Guh Lu who was actually staying/living also in the North of Italy. So it all started from there actually. One thing led to another and before you know it Andrea Janko, got kicked out due to his sloppy attitude and amounting lies for his abrupt disappearance to play with another black metal band (for money). Yes it was relatively easier since they are all from Italy and not from different parts of the EU. But important was not the fact to just search players, because ultimately I needed commitment and intelligent diehards to build force and work with.
– During that aforementioned tour we could see you in Spain, is there any chance of coming back to this country or any plans of touring Europe?
I'm working on new management so time will tell. But yes, looking forward to doing a proper EU tour for 2011. Time will tell honestly, and I just don't want to tour for the sake of just touring. We need to work with really more professional promoters and or booking agencies this time round.
– And finally, IMPIETY has been around for over 20 years now, and you have always been there, since the very beginnings so, what does IMPIETY mean in your life nowadays?
Yes, I have accomplished it all. It's been hard struggle all those years but nothing stops me, til I myself says it's time to stop. The torch within me has been burning endless since 1990 til today. I can't explain it fully but I seem to enjoy taking on stress and challenges. Be it shitty label treatment, line up changes, crappy financial situation,etc. I have overcome these. I'm thankful for the support of Pulverised Records who have liberated some of the financial woes of this band, they've supported 2 tours of IMPIETY. Im grateful also for fans and diehards who made effort to send me money directly just to see IMPIETY up and running during times of distress. I never asked for all that but they have cared a lot about the existence of the band and know it's really hard for myself, this Singaporean beast, to be able to put forward IMPIETY at all costs and no matter what the challenge has been. I am amazed myself looking back to see all trophies earned and it's because of these demons and support from diehards, the energy is at an all time high and I am able to put out punishing records. It's been amazing this journey with the band traveling the globe, living in countries like Mexico, Japan, now Italy,etc and yes, unselfish I have been – giving every thing to this war-machine. Prioritizing it above every thing else in my life. Life is short, and time never enough – but here we are today standing loud and proud in the underground and ready to bring about more carnage and add more rubble along the way. At the end of it all, these 20 years or more, have been fucken glorious indeed. Plenty of triumphs, monumental albums and great memories.
– That's all, thanks again for your time. If you now want to add any last words to your fans; last words are yours.
Thanks for the talk Tania. Diehards get in touch if you seek limited merch and to talk terror,etc. Others can Fuck Off. See you demons on the road at some point, we will tear every thing apart. Keep the grand anthem 'Worshippers' and 'Advent of the Nuclear Baphomet' plugged in as the world drowns itself further into depravation and demise. PRAISE CHAOS – Salve the fucking GOAT!
Plug Direct: www.facebook.com/impietyofficial