VISIONS OF ATLANTIS (Eng.)
– Hello, thanks for your time. Have been four years since your last record until «Delta». How do you feel having a new VISIONS OF ATLANTIS´S album in your hands?
It feels great after such a long time which was so unsecure for a long period. But now it`s finally done
– «Delta» has been released in all over Europe now, how has been the reaction from your fans and the media?
I think the reactions until now are very very good and even surprised us a bit. Our fans (which is the most important thing) seem to love it very much and also the reviews are really really good so far.
– The band has a new female singer and a new bass player for this brand new record. Was this the reason for these 4 years between each album?
Of course having another line-up changes was a big reason that it took so long for the new album. Mainly because of the missing female voice.
– And is there any concrete reason for these changes? How have these changes affected your sound?
The old female singer Melissa Ferlaak left the band in late 2007 and in early 2008 we began with the songwriting for the new album where Mario Plank (our male singer) took part for the first time (He wrote many lyrics earlier already, but no music), this changed our sound maybe a bit and now we sound more soundtrack-orientated and maybe a bit more proggy.
– Maxi Nil is from Greece, how did the idea of joining the band arise? Is she living in Austria now? And if she's, how is the working method for VISIONS OF ATLANTIS?
We casted a lot of girls from all over europe, and at last we got in touch with Maxi Nil. It felt quite perfect from the first moment on and so we decided immediately that SHE should become the new female voice of VoA. She`s still living in Greece as we always used to work via internet for new songs and being in contact all the time via internet too.
The working process starts when Mario Plank and me work out our basic song ideas where we add our lyrics later. Then the stuff comes to Marcus Steinberger our orchestrater. And when these things are finished we handle the material over to the others that everyone can find ideas for his instruments.
– Personally, I think her voice its matches perfectly with Mario Plank's voice. Have their voices brought a new personality to this album? As Mario's voice has impoved a lot since «Cast Away» as well.
Of course I think that their voices are a big advantage for the whole album and give everything a very unique attitude. I personally really like the contrast between Mario`s aggressive voice and Maxi`s very emotional and warm voice.
– What are your goals to achieve with this new «Delta»?
Touring as much as possible, getting many new fans and making our old fans happy with this new album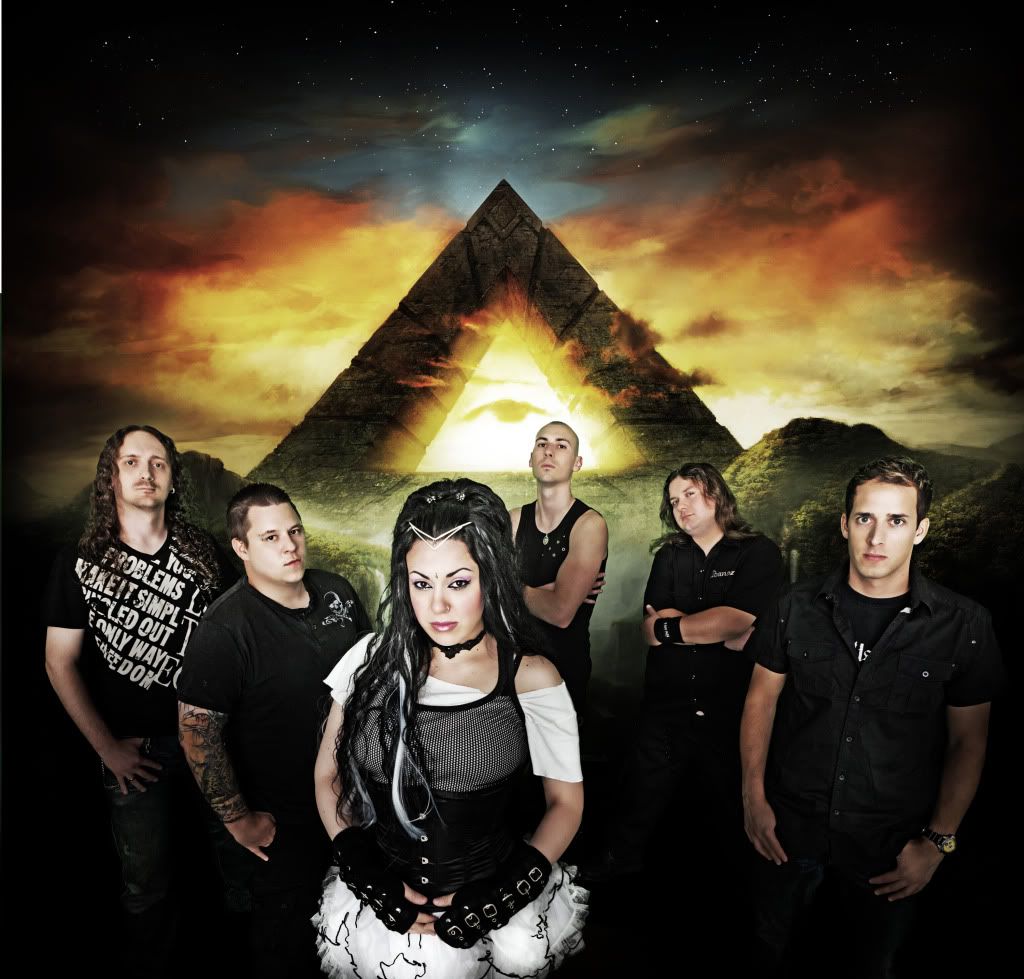 – How was the composition process for this new album? Were new members involved or the tracks were already finished when they joined?
When the new members joined everything was actually finished, we just adjusted some voice-arrangments for Maxi`s voice which actually already had fitted very good to the existing material
– After listening to «Delta» I can only say this is your strongest piece so far; does now the future for VISIONS OF ATLANTIS look brighter? And do you think this will be finally an estable line-up?
Thanx for the kind words. I have that the future for VoA looks very bright and the most important thing is that we don`t change the main line-up (Songwriters/Singers) any more as this one seems to be the strongest in VoA`s history now!
– «Delta» shows your own personality but adding some new elements. How could you say we can find new in this release?
Some of the new elements are very aggressive parts which roll over the listener in a very raw and majestic way, but also dealing with progressive influences and very long songs compared to Cast Away or Trinity are somehow new elements. But the most important new element being immanent to the whole album is the structure of the songs dealing with a great filmscore-dramatic-attitude.
– For example, I could say «Conquest of Others» seems one of your most brutal tracks so far. What could you tell us about it?
Yes, exactly. Conquest of others is very angry with a very serious topic. Mario`s great lyrics are about those standing behind the war-industry which can be felt with every tune of these really heavy almost 6-minutes. This is our angriest song so far for sure and the great orchestration could have been part of a WW2-game soundtrack too I`m sure 😉
– Lyrics this time look quite realistic and personal, maybe more well-cared. What do they deal with? Any personal thoughts/experiences maybe?
Some of the lyrics are about little fictive stories dealing with social-cultural problems, personal problems which then could be also transfered to the maybe fictive city of Atlantis. Other lyrics are very metaphorical with different ways of being read but also with the topic of personal problems and problems of a whole society.
– You're right now touring Europe, so please tell us youre next dates and some summer fests you're
gonna play for all those interested in seeing you on stage.
As anwering your questions we`re just preparing for the last show of the tour in Milano tonight. Next dates will be 2 CD-release-shows in Austria (Graz and Wörgl) together with our good friends and label-mates of serenity. Afterwards summer festivals are waiting, where we`ll be on stage at Metalcamp, Metalfest Hungary, Masters of Rock, Wacken to name a few.
And in October we`ll return to Belgium for MetalfemaleVoicesFest again which is always a highlight for us. Hopefully more dates to follow!

– And, finally, what are your near-future plans (beside promotion and gigs)?
Touring, recording new album, releasing new material every year from now on to prove that this is the best VoA-lineup ever created!!
– That's all. Thank you once mroe for your time. If you now want to add any last thoughts, is your time.
Thanks for this great interview! Guys and girls out there, go and get our new Album you won`t regret it!  And then we hope to meet as many as possible of you on the road soon!
Peace 🙂