– Hi Carmen and Birgit, thanks for taking the time. To start the interview and already getting into your upocming album, which is going to be released next 22nd, I would like to know your expectations for the album.
Carmen/Birgit: Oh, we`re so excited about the fans`s reaction!! We`ve given everything for this album and hope that the fans will like it! The countdown has started and «The Metamorphosis Melody» will soon be out in the record stores! 🙂
– For «The Metamorphosis Melody» you have worked with Markus Stock (EMPYRIUM, THE VISION BLEAK), how has been the result? Is what you wanted?
Birgit: You are right. Different to "Nordlys", where we have been at four different studios in three different countries, everything has been done now within the hands of Markus Stock at Studio E, from recording, mixing to mastering. We all think it was the right decision and we are more than happy with the result J Markus Stock is an awesome producer and also a great guy! The production of "The Metamorphosis Melody" is very powerful, earthy and perfectly balanced between all the instruments and the vocals, and this is exactly what we wanted. His ears are really amazing, almost unbelievable which tiny differences he can hear and it was a real pleasure to work with him. He always stayed calm and relaxed, never got impatient, was very disciplined and always open for new ideas. We did it that way that during the recording process not just the one who´s turn it was to record was in the studio, there has always been at least one further member of Midnattsol in the studio, to give musical and mental support. This also makes the whole recording process more pleasant, as you could always ask Markus and another Midnattsol member for a second opinion, or just have a barbeque together at the lunch break 😉 We have also released a little trailer on youtube which shows some excerpts from the recording during the song" Kong Valemons Kamp". There you can see that we really had a great time there!
– «The Metamorphosis Melody» is such a curious title. Does it refers to some kind of «metamorphosis» in the band's sound? Or what does it represent?
Carmen: Cool that you think so, that`s a great compliment, it`s good to hear that the titel makes you wanna think further 🙂 And you`re perfectly right, one of the things that the title shall symbolize is that we in Midnattsol have gone through a metamorphosis ourselves, we have gone through a great development musically process since Nordlys. Surely one of the reasons for that is that the band structure changed; Alex became a member of the Midnattsolfamily and just exploded over with good song ideas. There is a now a much better harmony between each single instrument and the vocals, we play together in a whole new way. It`s like we have come closer to each other and the atmosphere within the band is better than ever before, which I think has an influence of the music as well. In the last years all of us have also developed musically, which is quite natural I guess when you play and sing a lot and when you push yourself to new musical boundaries continuously. Our drummer Chris is a great example of that, he loves challenges and to try different rhythms and he soon get bored of too monotonous ways to play hehe. Still, I think it`s important to mention that we haven`t left the typical Midnattsol sound, not at all, you`ll still find a huge amount of the typical Midnattsol characteristics in the new songs 😉
The title is also an indication of the fact that every single member of the band has also gone through a change in life
regarding something else; love, death, personal developments a.s.o. As a result of this, all the lyrics are about different themes that I guess people can relate to their lives in some ways or another. Additionally it shall reflect that the situation of the world today. Everywhere you look around there`s atrocity and destruction, we destroy ourselves, the animals and our valuable nature. The world screams for a new phase, for a new kind of thinking. Behind the title there is hidden a deeper meaning, and you could say that the title shall be an inspiration for change both globally and personally. But how this development shall look like concretely, is up to the listeners to decide 😉
– One of the things that caught my attention from the album was the great mix between heavy sounds (as the guitars) and the fragile/charming/melodic vibe. How important are contrasts or well-cared mixtures between opposite elements for you? Is this a way to keep yourself and your listeners interested in your music?
Birgit: Hey, it seems that you have listened to our new album really carefully, that´s great that you are so engaged into it and so attentive J We really love the combination of both heaviness and atmospheric melodies. For example Chris is playing some drifting double bass part in combination with rocking guitar riffs and a pushing bass, but at the same time the Daniel is playing a nice melody on the keyboard or the second guitar is superimposing another melody over the first guitar or the vocals. We also really love it when the guitars are played with two voices. But this does not mean that we always have this contrast in one part, it can also change within one song, e.g. starting with a gentle acoustic part, charming vocals, melodic bass and atmospheric keys, crossing over to a more progressive and complex part with different beat changes and finally leading to traditional Heavy Metal elements, as for example at the song "Re-creation" which ends with a fantastic guitar solo.
I have never really thought about that before, but I think you are right, if you say that it´s a way to keep it interesting for us and the fans. Just playing a chord up and one down wouldn´t satisfy us, we would immediately get bored. So this is maybe a reason why we often hear that you cannot hear all the details at the first listening, it takes a couple of passes to get into the music. I´m mean, we are not the ones who write any chart hits, but you will get album which you can hear again and again, without getting bored.
Compared to our two former albums "Nordlys" and "Where Twilight Dwells" we would say that the new album varies much more, which means we have a broader mixture of heavy, calm atmospheric and midtempo songs. Also if the songs are quite complex, they are more catchy, groovy and with more hooklines. We have more beat changes within and between the songs and Chris´ drumming is really diversified. The vocals are very warm and charming, Carmen varies a lot with her voice, from powerful till gentle. Daniel´s keyboards accompany the songs perfectly, sometimes dominant, sometimes discreet. Also the bass is breaking new grounds, in harmony with drums and guitars. What has maybe also changed is that we have much more typical traditional Heavy Metal elements. We all love atmospheric melodies in combination with heavy riffs and always paid attention to that. This has always been a typical element of Midnattsol, but is brought out even more this time. The new album is in general also harder, more rocking and powerful J
– I think this is your most mature and compact album. Do you feel like this is your best effort so far?
Carmen: Oh thanx s lot for the compliment, that`s great to hear!! J It`s cool that you mention it, because I think "more mature" is exactly the right description to use word when describing our development since "Nordlys" and also compared to "Where Twilight Dwells"
. When we heard the songs for the first time after the fulfilled recording process, mix and mastering at Studio E, we were thrilled over the result (which we also have to thank our great producer Markus Stock for!), and we totally share your opinion: actually all of us think that the whole album is the best one in Midnattsol`s history J It`s such a good feeling to finally have the new album in our hands and be satisfied with it, you know, each single of us has stood under a huge time pressure where spear time has been an unknown word, and also a great eager to get out the best of us. A good sign is that we haven`t got bored of the songs even though we listen to them and play them quite often because of the upcoming live activities, or started to irritate ourselves over things that we should have done in another way, we still like them, hehe ;)The new songs have more to offer and have more like before melodies to sing along with. These atmospheric and melancholic melodies have been one of our
trademarks since we started, but this album is even more melodic and contains even better melodies, and this time there are some fantastic guitar solos at the end of some songs like "Re-creation" or "Kong Valemon`s Kamp". We just have so much fun playing them, often looking at each other in the rehearsal room with a smile while practising, kind of magical to share this feeling with the other bandmembers. You mention that the new album is the most compact one, and you`re absolutely right, there`s a lot of variation musically as well as lyrically, still having this red line throughout all the songs. The songs are about quite different themes and the songs offer something for different kinds of situations and moods. For example, Alex told me a while ago that he gets a lot of motivation and good mood for the day while listening to the title song in his car on his way to work, and "Goodbye" would be a song for a quiet evening with a glass of redwine..or Mjød for that matter hehe 😉
– The limited edition for the album will come with a DVD, live at the Metal Femal Voices Festival so plese, tell us a bit about it and the effort of festivales such as the Female Voices?
Carmen: Yes, with pleasure! J For the very first time in Midnattsol`s nine-year-old history we offer a live DVD!! J Our drummer Chris has spent months of hard work organizing this DVD called "En Natt I Wieze", which you mention is a part of the Limited Edition of "The Metamorphosis Melody". This recorded concert on Metal Female Voice Fest 2009 in Belgium was all in all an unforgettable event for us in Midnattsol, you see, it was on this concert were the fans were applauding Alex to an official member of the band! J But it doesn`t stop there, after the gig we got more than surprised by the fact that we won the award "Best Hope". The atmosphere in Oktoberhallen was fantastic, and now the fans have the possibility to relive the great happening through this DVD! J Another part of the Limited Edition is a Bonus track, where Daniel Droste is singing, which is kind of special since he left Midnattsol a short while ago. Our new album will as you know be out on April 22, but you can now preorder it and the Limited Edition on Amazon on amazon.
And – this year we`ll be back on the Metal Female Voice Fest in October to promote our new album, it`s going to be another unforgettable event, for sure! Coming to the Metal Female Voice Fest is like coming to a friend`s house for us, we`re always met with a warm welcome and taken so good care of. In the moment when we enter the stage it always feels so fantastic and the connection to the fans are just magical. After the gigs we always spend a lot of time hanging out with the fans having a beer or two, and it`s so cool to meet the same people year after year, and we`re so grateful for the cool presents that the fans bring us! Many of the fans coming here have followed us for years and with whom we`ll have stayed in touch with for years.
We will also play on the Durbuy Rock Festival in Belgium and for the first time ever in Hungary on the Metalfest, can`t wait to show you the new songs live! J
– Your 3 albums so far have been released by Napalm Records, so I guess you feel comfortable with them… Moreover, is a record label with plenty melodic Metal bands with female members in its rooster. Do you think it was a good choice start working with them?
Birgit: Yes, Napalm Records leave us the time we need and also understand, that we are all working besides Midnattsol, thus cannot tour all the time as maybe other bands can do. Not every label would accept that. We are in close contact with them, sometimes every day. Of course it´s like everywhere in the business world, that you also discuss about things and are not always of the same opinion, but in general they have always supported us over the years very well and also always believed in us. Napalm Records is also a record label, which has been slowly but continuously growing over the years, which I think is a very good way to build a stable company.
– These three albums have been released each 3 years, is this just casuality?
Birgit: It´s funny that you are saying that, because recently we also talked about, that we are in our "3-years-rhythm" again with "The Metamorphosis Melody" J We don´t intend to do that, it seems that this is just our run. After the release of an album we usually also go through different phases – first promotion, then concerts, sometimes also a short phase of "I don´t want hear anything from Midnattsol for a couple of weeks and have a normal life with lots of free time again". Afterwards we all have new energy for writing new songs again, for the following studio process, the organization for the cover and layout, merch, homepage,…suddenly 3 years are over and you haven´t recognized it. I think it´s also better if you don´t immediately continue with the next album. With a little distance you see and hear things differently, get a new perspective. Also a songs needs to age like a good wine, before it will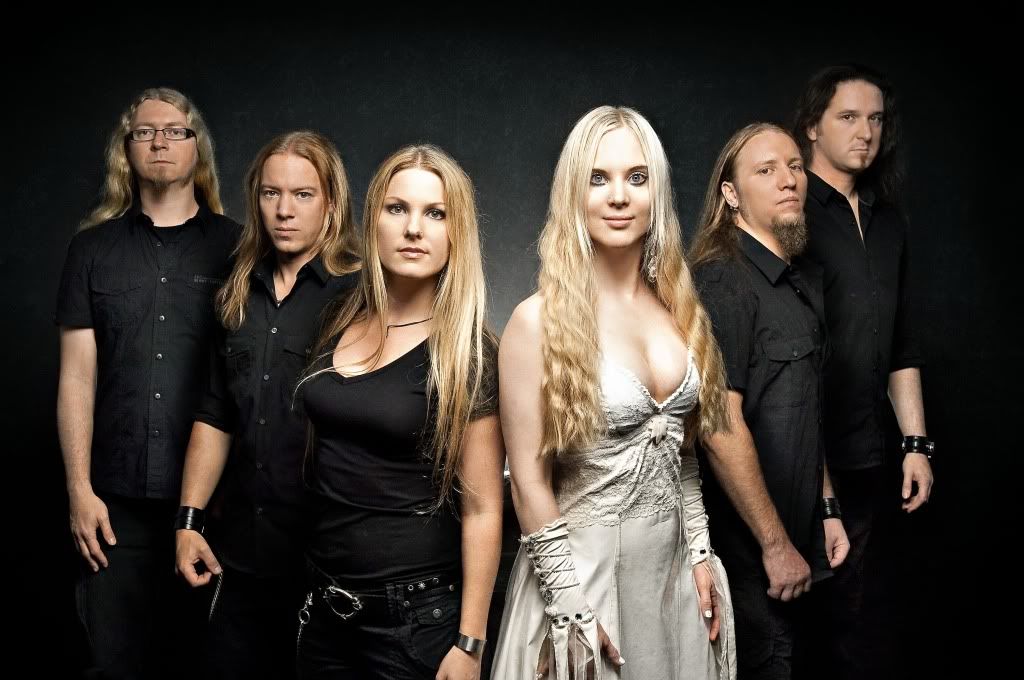 make it in on the record. We have always again changed some little things, sometimes just the speed of a song, so that it gets a better flow. If you release a new CD every year, than the time for a song to grow is maybe missing. So we´re not unhappy about this 3-years rhythm 😉
– Since your previous «Nordlys» have been some line-up changes, can we say your current line-up is a steady one?
Birgit: You are right, we have had some changes, however for some reason the only position which has changed in the nine years of Midnattsol history was only the guitars. However Chris, Daniel, Carmen and I are still from the original line-up. Actually we have been a stable line-up for six years, but then Christian left the band to have more time for his family and his job. Afterwards Fabz joined the band for a few months and also left because his family. But it was sure for all of us, that the leaving of them would never mean the end of Midnattsol! All our hearts and souls are in the band, so suffering this setback could only mean that it can only go upwards again 😉
After that we had received really lots applications for the guitar position, many of them from all over the world and some of them even offered to move to Germany. It was really important to us not to find only someone who can join the band rehearsals quite often and thus participate at the songwriting, but also someone who y
ou can go out with and have a beer together. Not only the musical aspect is important, the human aspect is even more J So Alex has been one of these applicants who came to an audition. As so often in life, it was the best just to listen to our gut feeling. We immediately felt: this fits perfectly! He is a cool guy, can play the guitar and you can have fun with him! Now, 1,5 years later it feels as if he has always been a part of the Midnattsolfamily 😉 Then Daniel D. also left the band just a few month ago, as he also didn´t find the time for the band anymore. But with Matthias we have already found a great guitar player for the upcoming release tour, so you will see us as a complete band on the tour in April J Matthias is learning the old and new songs very fast and we all like him a lot. If it continues like that we will soon have another permanent member at Midnattsol J
The leaving of the guitarists has never been a personal problem; we still get along very well. Christian is living in the same town as our drummer Chris and me and we still meet him regularly. Also Daniel I just met two days ago. Getting a new job or getting a child are things in life, which just happen, that´s the way life goes. So the most important thing is just to rely on your gut feelings whether it fits or not. Other aspects can just happen and cannot be foreseen. So it can also never be predicted, whether the current line-up is stable or not, but at the moment the feeling within the band is better than ever before.
– Speaking of the line-up, there are members from different countries, how do you use to work? Makes this things more difficult to rehearsal, recording, etc.?
Birgit: Since Carmen has moved to Norway again, some things have of course changed and we have the challenge to organize things over the distance of two countries. But we are somehow used to it, as also before we all lived in different parts of Germany and me in Switzerland. Meanwhile all of us except for Carmen live around Stuttgart. Thus we have also moved with our rehearsal room to Stuttgart, which makes it much easier for us to meet much more often than in earlier times. We also write and arrange the songs usually there and it´s meanwhile like our second living room ;-).If we are together, we are "throwing" the rhythms and melodies to each other, someone is picking it up, changing it a little bit,…it´s just flowing. This you can also hear within the songs afterwards. It is also that way that not everyone looks after his own instrument and makes suggestions for the others. Especially our drummer Chris has also great ideas for melodies and not only for rhythms, or e.g. the guitarist has an idea for keys and vice versa. For "The Metamorphosis Melody" we usually kept it that way that we made and arranged the "instrumental songs" and send them to Carmen via internet, and she did use the time there to work on the vocal lines. About once a month she´s then coming to Germany and we work together on the details of the songs and the matching between instruments and vocals or she comes here if we have a concert. So though Carmen is living in Norway again, we
actually manage it quite well to arrange everything over the distance. Due to internet it is meanwhile possible to send instrumental ideas/songs or vocal lines via E-Mail and we also communicate and discuss a lot.
– Carmen, being Liv Kristine's sister helps into this world or, on the contrary, is it annoying that some people can say you're standing in your position because of that?
Carmen: At the beginning, it certainly was a bit sad and annoying, because I really wanted to be seen as Carmen and not only as a sister and wanted to be taken seriously. Some people thought when we started the band, that is was only because of me wanting to go in Liv`s footsteps and be famous. But that is so wrong, the fact is that I have made music and sung since I was a child, independently of what Liv did, so I am just doing what I always did: singing and making music. I just hadn`t done it in a professional way before. The comparison of Midnattsol with Leaves Eyes was also a bit annoying for the other ones in the band, you know, all of us put so much energy and effort and almost all our spear time into Midnattsol. It`s not only making music and writing lyrics, we take care of the other things as well, everything from artwork, merchandize, promotion till financial stuff, so it`s hard work even if it`s also pure fun and we`re living out our dreams. But these thoughts have completely changed during the years, I have totally stopped bothering about it, such as my band mates. I focus on the positive thing and if you think about it, it has come out most positive things out of us being sisters: the fact that she is quite famous in the scene does automatically do promotion for us, which of course is positive, and we have the fantastic possibility to share such a beautiful thing as singing together, like now when I have sung some guest vocals on the new Leaves Eyes song "Sigrlinn". It`s always a fun experience singing together with Liv, we go totally crazy together hehe 😉 I also learned a lot, because I contributed to a choir, which I haven`t recorded before. All in all I guess you could say that it has helped me more than it has hurt me, and I couldn`t ever imagine a better sister, she is my soul mate, and I am so grateful for her being there for me my whole life!
– After the new album's release, what are your near future plans? Do you have any offers to play in Spain?
Carmen: On the same day that the album is released, we are for the first time ever in Midnattsol`s history going on a longer than 3-days tour through Germany, Switzerland, Austria, the Netherlands and Italy supporting Leaves Eyes. We are very eager to play the new songs live, we can`t wait to show them to you, just a week now and then we`re on the road, yeh!! J It will be a unique experience, like a  dream coming true, imagine yourself getting this unique chance experience a tour together with your friends or/and family  J Unfortunately there is no planned concert in Spain yet, but we would really like to come, we have amazing fans in Spain and the country itself is so interesting, one of my favorite cities is Barcelona J We have been rehearsing for the tour for a while now together with Matthias, he is such a cool and nice guy and a great guitar player, so let`s hope that he will still like us after the tour hehe and contribute to the songwriting for our forth record.
Check out our homepage www.midnattsol.com or Myspace site, which will soon go through a make-over, or "meet" us on facebook or twitter! We will also soon have brand new merchandise to offer to our fans, which is actually designed by Stefan Heilemann, who made the artwork to "The Metamorphosis Melody". We also have made some special video clips for our fans, so stay tuned, we`ll keep you informed! J
– And, to finnish this interview, what does «Midnattsol» mean?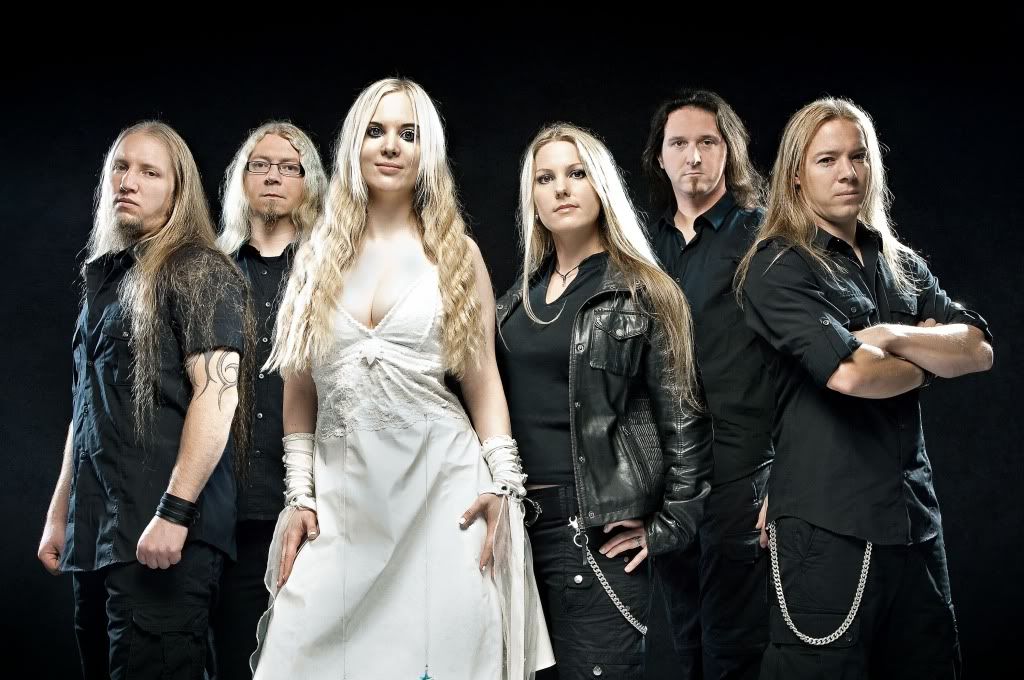 Carmen: "Midnattsol" means "midnight sun", and the reason for choosing this name for our band was its great connection with our band concept, music and lyrics. We also wanted it to be a symbol of one of our big inspirations sources; the nordic nature. Midnattsol is a special Nordic nature phenomenon and there`s something very mystical about it, like in our music. It gives a special atmosphere while looking at it, like an escape of the thoughts to another dimension. In the older days it
was said that when the midnight sun shines, nature creatures like trolls and elves comes out from their hidings. So it shines in a mystic time where the phantasy can go wild, like in many of Midnattsol`s lyrics. You should come to Norway and see it someday, together with the northern lights! 😉
– That's all, thank you both for your answers. If you feel like adding any last words to the interview, feel free to do it.
Birgit/ Carmen: MIL GRACIAS POR LA GRAN SUPPORTA DE NUETSROS FANS ESPENOLES!! J We wouldn`t be where we are today without your amazing support, horns up for you! J Hope you`ll like "The Metamorphosis Melody" and that we `ll see you on our upcoming tour!! J