– Hello, thanks for taking the time. What's currently going on in the DEFILED's camp?
Hello, metal sisters and brothers in Spain. Yusuke from Defiled, Japanese death metal band here.
We just finished our European tour to support our latest album «In Crisis» and prepare for our next assault.
Everything with us goes fine now.
– First off, hope you don't mind starting giving some history of the band…
Defiled was formed in Tokyo in 1992. Got 1mini album and 4 full length albums.
So far we have played 36 countries. And still alive to create to unique death metal on our own way.
– And what are the band's main musical influences?
That's a tough question because we have various influences.
One obvious thing is mainly we're inspired from some old thrash metal bands, not young follower bands in death metal because we grew up in thrash metal movement in later 80. You can find some of our riffs are very traditional however our composition are very progressive and weird.
– Your previous album was released back in 2003; why did it take you so long to release a new album? What were you up to during that time?
After back from our Euro tour with Mayhem in 2004, we had a major lineup change. All of us except me left the band due to the family issues.
To find the replacements were really time consuming. Many trial and error happened during past years and that's why we took so long time for «In Crisis».
– Since that previous «Divination», band has been reformed with 3 new members; has this affected DEFILED in any way?
Certainly new guys brought a bit different elements however basically we keep our own music direction.
As far as we keep our trademark «Defiled», we continue our own music. That won't be changed.
– Your brand new album is «In Crisis»; how's being its feedback so far?
So far mostly we're receiving positive feedback. We try something different on that album and fortunately it works out well.
Of course at the same time we keep traditional manner as well. We're very happy to hear what fans feel about tat album.
– And why such title for the record? It doesn't look really positive…
Hahaha. Don't get us wrong. All of you should check our lyrics before you wonder that.
Actually our lyrics should be very intelligent and they might suggest you what happen in this world.
– Talking about that, does it has any connection to lyrics behind this new release? What are the main lyrical ideas?
Album tittle song «In Crisis» represents whole theme on «In Crisis». The album has total concepts and all songs are organically connected.
As mentioned above, all subjects are about ironies on the earth. Please check our lyrics carefully as well as our music.
– Now that have been some months since the record came out; are you guys fully satisfied with the final output?
Definitely.  We're proud of what we did on «In Crisis». We hope many fans enjoy the album. Mighty Bill Metoyer is a living legend.
It's obvious he did a magnificent job on the album.
– This effort is another proof how good do you mix technique and brutality; is this an important part of the DEFILED's sound?
Of course. That's one of our most important aims for doing metal music. We need skills to express our own brutality. That's about what death metal should be.
– You are the only original member remaining in the band. Duing all these years; what has change both in your in a personal level as in the band?
Basically I manage my whole life consistently and stably.I have been creating what I like and doing my best for Defiled for past two decades.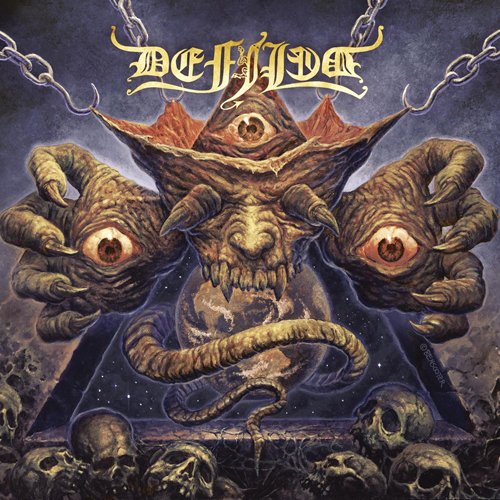 To have lineup changes were very tough but sometimes unavoidable because everybody should move on. But the spirit of Defiled won't be changed.
Speaking of my personal life, recently I got a second home in Okinawa, Japan's most distant province from Fukushima since Fukushima nuclear reactor accident happened in last March. I mean concern for radiation crisis in Tokyo area.
Health is one of most prioritized things for my musician life.
– And what have been the best and worst moments?
The best moment – When we saw our crazy fans on the show.
The worst moment – When we missed our flight due to the heavy traffic.
Got them? (lol)
– You recently toured with HATE ETERNAL, OBSCURA and BENEATH THE MASSACRE. How was like that tour?
The tour was absolutely fantastic ! We can say it was one of the best tour ever we had. Really craziest 3weeks.
We hope to tour with them again. Hopefully soon. (lol)
– It seems to be a growing extreme Metal scene in Japan and Asia in general as well but, how do you see as an «insider» of Metal scene round there?
A couple of years ago we toured whole Asia and got huge responses. Most people in Asian scene support each other and it makes them strong.
We're pretty sure Asian metal scene must be getting better and better, bigger and bigger. Nowadays many western bands start to tour Asia.
That's good for Asian scene for sure. Same thing can goes to say about Japanese scene as well.
– And finally, what are your near-future plans?
Now we're very busy for the recording for the next album. It contains 12 brand new songs.
Hopefully we'll complete the album by end of this year. Plan is just plan so not sure yet though.
Anyway we won't make our fans waited anymore. Please expect our next release very soon.
After the next album out, we'll try to hit Europe again.
– That's all from my side, thanks again for your time. Now feel free to add some final words.
Thanks everyone who read this interview. Please check our latest album «In Crisis» if not yet.
Please support us and our label Season of Mist. They are selling our albums.
We hope you like all our efforts. Stay metal and see you on the tour. Hopefully in 2012 !