– Hello, thanks for taking your time. What's FROSTMOON ECLIPSE currently up to?
(Claudio) Hello Sergio, thank you for this space. Right now we're just back from a couple of gigs in Austria and will spend the next mouth on some new songs before two more gigs in Italy and Slovenia.
– First of all, I woul like you (if you don't mind) to tell us a bit about the history of the band; a bit about your past, present and future plans, as I guess there may be some people who aren't familiar with you yet.
(Claudio) I formed the band back in the fall of 1994, and until now we did four albums for the greek label ISO666, and the 5th and last one for Osmose Prod., "The End Stands Silent". In between, countless mcd, split, 7"ep and tribute albums appearances. We toured Italy, Europe and the States, headlining or sharing stage with more famous bands. We've been around…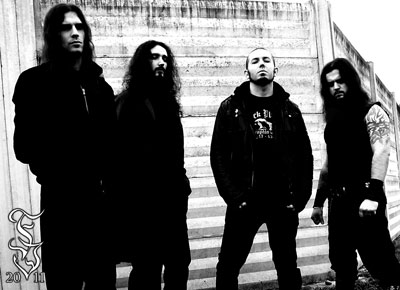 – Why did you pick the name of «Frostmoon Eclipse» for the band? As well as its origin and meaning.
(Claudio) It's no secret that it comes from an old Immortal song, but it could've came from any other band from the golden age of Black Metal. It stands out as a tribute to the old mid 90s feeling.
– Since your previous studio album, «Another Face of Hell», you have released several short-length pieces and a compilation; is there any concrete reason why you have released that stuff but you have waited 4 years to release another full-length studio album?
(Claudio) It always takes a lot to write proper songs for a full lenght, let alone be prepared for a good recording. ..but basically, between the last two albums, we just did the mcd "I am Providence" (which is one of my favourite releases ever), and a Von cover for a tribute album. The rest were just re-releases…
– This latest «The End Stands Silent» was released earlier this year; how was its feedback like? Did it fulfill your expectations?
(Claudio) We got more attentions from bigger magazines and stuff like that, and we tried to support it playing the better gigs we could. Not everyone was able to 100% understand it, but we knew that.
– I honestly think this effort is just superb, from song structures to the melody and aggressiveness doses. Could you say is your best or most complete record so far? Or maybe the most mature?
(Claudio) Thank you very much. For sure we worked really hard on it, I can't remember I had never rehearsed an album for so long. Yes, I think it's mature, but on the other hand we are quite old… Still I have to say that I like each and everyone of our previous records, so I can't really pick up one.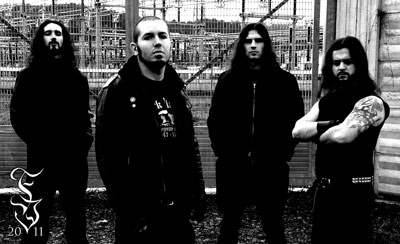 – Due to this I would like to know how was the songwriting process and if anything changed during it.
(Claudio) No because it's always me writing all the songs. Of course I may have changed throughout the years, and so my style, but basically it's always me writing and the rest of the band adding their parts. I'd say it'd stay like this forever.
– A few months after this album was released, you unleashed an EP entitled «A Ticket to Nowhere». Please, tell us what can we find on it. And why didn't you include these songs on the album? Maybe they didn't fit the whole concept on «The End Stands Silent»?
(Claudio) The songs weren't included on the album simply because they were written later. When we recorded "The End Stands Silent" we were still searching for a record deal, so it took some time from the recording to the release… That's when the songs for "A Ticket To Nowhere" were written. All in all I think they share the same feeling, or at least the same Frostmoon Eclipse feeling.
– And talking about this, I would like you to shed some light on some of the lyrical ideas behind this album.
(Gionata) Lyrics are about death, depression and isolation.. but don't misunderstand my words: we're not a depressive band, we just need to share our vision through those kind of topics cause this is our personal view about the world is around us. I can't stand people and their way to conceive life. Everything is grey all around us and I can't ignore it.
– And what about the artwork? I mean the artist, what does the art represent, etc.
(Gionata) The entire artwork is completely based on pictures of the "holocaust memorial" of Berlin, a memorial built to celebrate the victims of the holocaust. I chose that strange and weird place cause it is so cold and lifeless… it really represents the entire lyric concept the album is all about. When I walked though this place for the first time in summer 2009 I've been completely fascinated by the coldness of the building and I understood Frostmoon Eclipse should use it to better explain what they were all about.
– This was your first album with Osmose; how's so far being in cooperation with a such well-known label in the underground?
(Gionata) I can say it's a great satisfaction for sure. We've all grew up with the records of Osmose Productions so you can imagine the satisfaction to see their mark on our album too. It's a big honour to be a part of their world. You can find our album in the biggest stores around europe and on all the worldwide famous mailorders.
– You've been around since 1994 if I'm not mistaken, so you are not a new band at all. When you started with the band; what were your aims and goals? Have they been chaging with the years?
(Claudio) I always think step-by-step, so my first goal was obviously to record a demo. Then we might say that the ball started to roll… Now, after all this time, I still want to write songs to express my feelings, record good albums and play good shows for the people who come to see us.
– And after such a long time into the music world; what have been your best and worst moments with the band?
(Claudio) My brain just records bad moments, so I am not the right one to answer this question, but I can say it's always a cool sensation when you have a song finished and together with all the band you say "let's keep it".
– As I said you have been with the band for a really long time, and it nowadays seems hard to survive into the music industry, specially in this current days which seem specially rough for the music world but, how's the Metal scene like in Italy?
(Claudio) Let's not waste any time talking about Italy.

– Finally, what are your near-future plans? What can we expect from FROSTMOON ECLIPSE from now on?
(Claudio) As I told you, we have a couple of booked gigs as well as a new album to work on. We'll see…
– That's all, thanks again for your time. If you now want to add some final thoughts, take the last lines.
(Claudio) Check out our website www.frostmooneclipse.com or the usual http://www.facebook.com/frostmooneclipse and http://www.myspace.com/frostmooneclipse
…and why not, try to catch us live, sometimes somewhere… thank you!